Post by syt0x on Jul 10, 2011 22:11:10 GMT -5
Rules:
- Threadcrappers shall be crapped upon.
- Payment by PayPal or face to face cash.
- You will pay the full amount before I ship out.
- In a trade, you ship first. I have plenty of feedback that I can provide.
- I describe items to the best of my ability. Items are sold as is.
- No refunds unless it is my fault. (Shipping damage is your issue unless you pay for insurance)
- I work full time, so it may take me a few days to ship out. Do not worry, I will not scam you.
- Feel free to offer.
- Prices don't include shipping and will vary depending on the size of the item.
Trades: Optics G&G GR25 Mags and whatever else so offer up.
LiPo Batteries.
These are Sky brand LiPos. They are 7.4v 1800 mAh and wired to Deans. Dimensions are approx. 105mm x 35mm x 13mm.
Price: $15 each
G&P mk14 Proto
This baby was probably one of the most anticipated builds I have ever done. I got all the parts for it, and it just hasn't overcome a compression issue. I don't know what it is at the moment, but a Guarder SP140 is putting out sub 400 fps in it. The same spring in another rifle is giving me 475 fps. As soon as this compression issue is solved, it will be a super hard hitting, amazing rifle.
Includes/Upgrades:
- G&P mk14 Proto (Tan)
- 1 Standard G&P mag
- 5 KA 100 rd midcaps
- Super Shooter 7 metal tooth piston
- Guarder cylinder enhancement kit (Cylinder, cylinder head, air nozzle)
- G&P Steel bearing spring guide
- Guarder SP140
- Homemade MOSFET
- G&P m120 motor
- Prommy 6.03 450mm Tightbore
- G&P hop bucking
- Guarder scope rail
- Gearbox has been shimmed, AoE corrected
Problems:
- Low fps no matter what spring
Price: Easily over $570 worth of stuff, probably over $600 but I haven't added exact #s
Asking $380 ($60 more than a new stock gun!)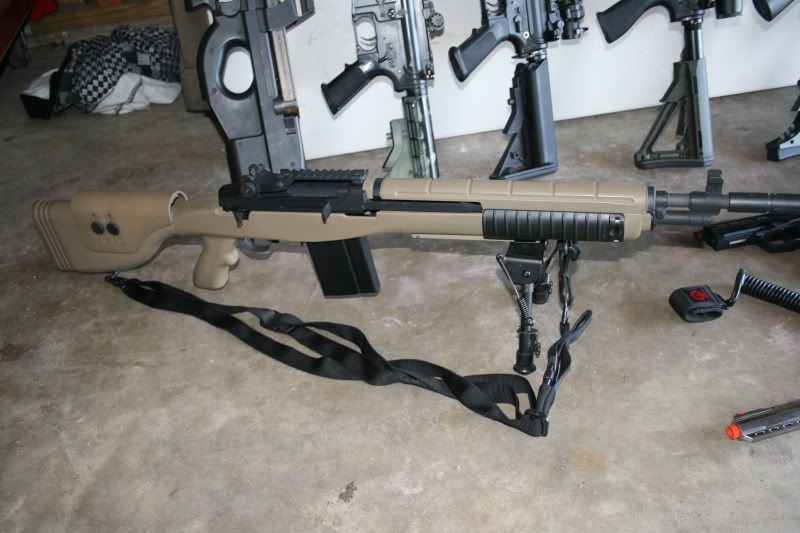 ECHO ASR
I got this second hand about 4 months ago. From what I have shot through it, it has no issues and fires great. There is no mag right now, but they are cheap and easy to come by. The rifle chronos at about 415 fps.
Includes:
- ECHO ASR
Price: $70
In the middle.
JG p90 Package
I bought this stuff new about 3 months ago. It has not seen a ton of use, but when it is used it does perform well. I have opened it up and done the following:
- Clean the gearbox
- Reshim
- Relube
- Replace motor with slightly better clone motor
- Deans
- Removed fuse
- Shoots about 300 fps for CQB
Package includes:
- JG p90 (Red dot version)
- 1 68rd standard mag
- 5 170rd MAG midcaps ($20/mag)
Price: $160
The only problem with the setup as it sits is that the MAG midcaps aren't really broken in/modded for the p90. They fire erratically in terms of power behind the shot. Once they work properly, the gun shoots great.
ECHO m28
Bought this one looking to make a project out of her, and I just haven't had the time lately. If this does not go for about the price I want, I will be keeping it. Right now the gun has the following problems:
- Bolt will not pull far enough back to lock.
- Body bolts need to be cut to fit the rifle.
- The piece in the hop up which makes it so only one bb goes in the chamber is cracked in half. Still functions perfectly though.
- Missing end piece on barrel
Includes/Upgrades:
- ECHO m28
- 2 KS m24 mags
- CNC Aluminum piston
- AIP Piston sear + bolt rings
- Pack of m5 and m6 bolts for body bolts
- KA hop bucking
Price: $110
This rifle is ready to be turned into an amazing project.
On the right.
Various Random Items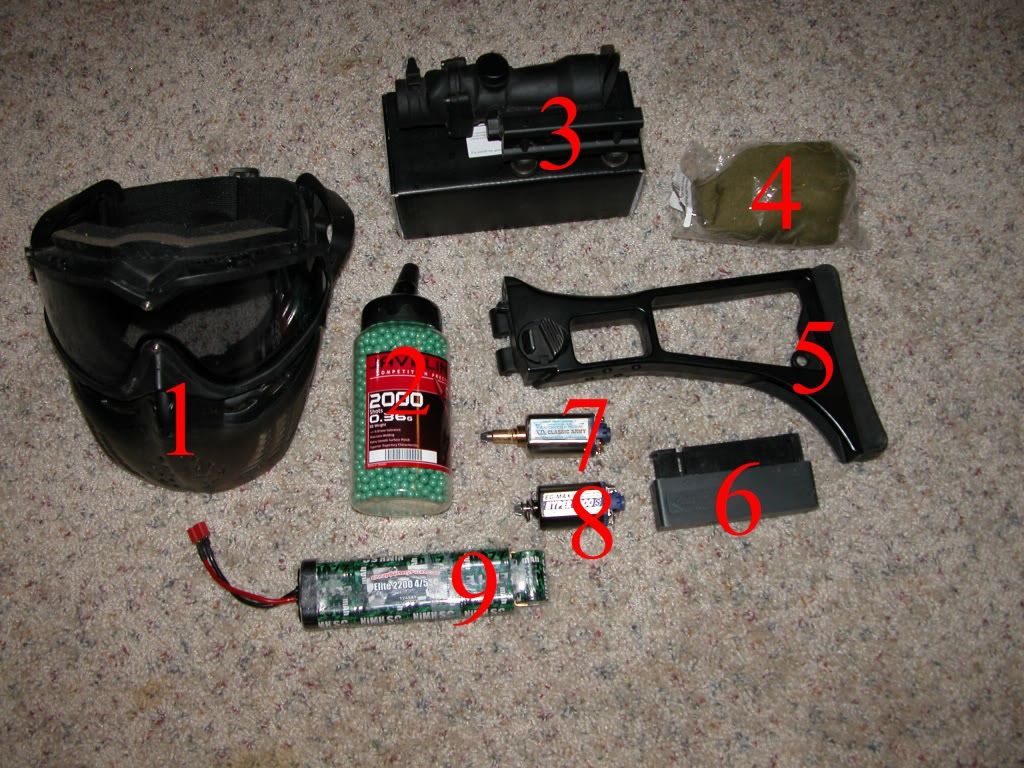 1. Mask $5
2. 2000 .36 bbs $10
3. Red Dot Cross ACOG $35
4. Green Balaclava *never worn* $5 or Free with some other item
5. Tm G36 Folding Stock $15
6. L96 Mag $10
7. Classic Army High Torque Long Motor x2 $10
8. TM EG1000 Hi-Torque Short Motor $15
9. Elite 10.8v 2200 mah deans battery $15
WE 1911 Upper Right One
Comes with two non leaky mags.
Price: $90
Custom Highly Upgraded TM G36 with full HK trades
This was my primary for the longest time. I've just outgrown the look of a G36. Shoots in the 400 range, with deadly accuracy and high rate of fire.
Was: Tokyo Marui G36C
NOW: Lipo ready Custom G36
Length: Prometheus 455mm barrel
Motor: Systema Magnum
Stock: G&P stock
Mechbox: Mixed of Guarder, Systema and Prometheus parts
FPS: 450-460 w/ high ROF (AE .20)
Includes:
Systema Magnum Motor
Guarder SP120 spring (equivalent to m130)
Guarder ball bearing spring guide
Guarder nozzle
Systema Duracon piston head w/ Ball bearing
Systema Cylinder
Guarder cylinder head
CA Blue piston
Guarder anti-reverse latch
Guarder bushings
Systema shims
CA reinforced high torque gears
Prometheus 455mm Barrel
Guarder Hopup bucking
Silencer to cover extended barrel (forgot which brand)
Deans Connector
G&P stock (holds battery), new = $95 alone
Price $300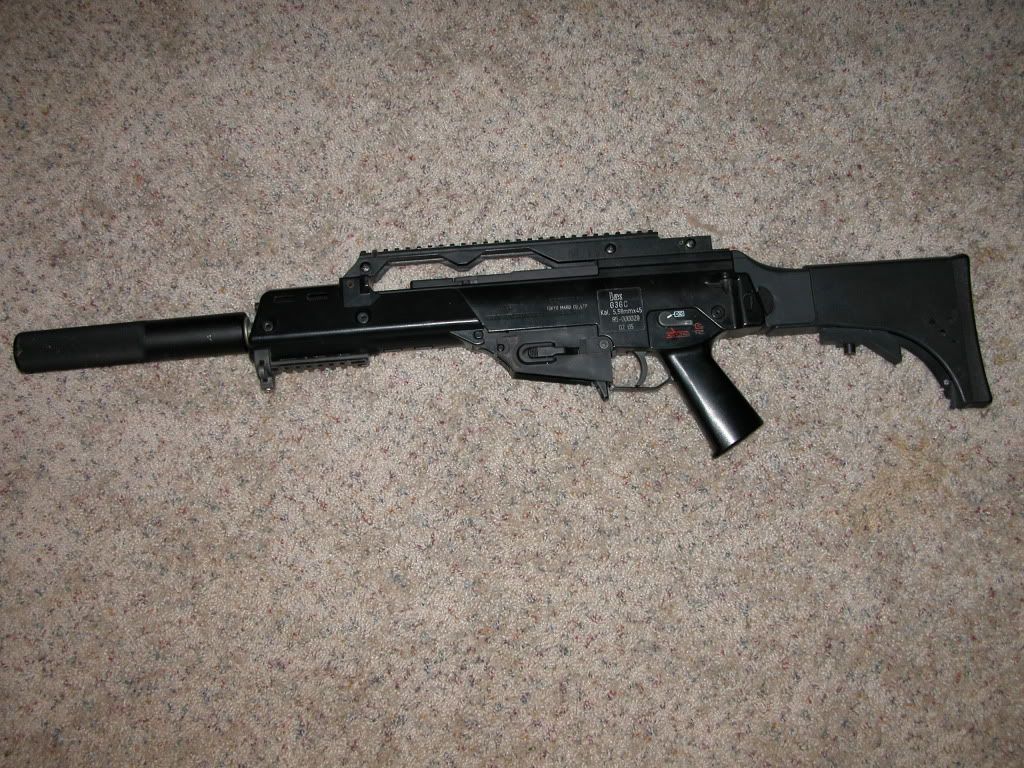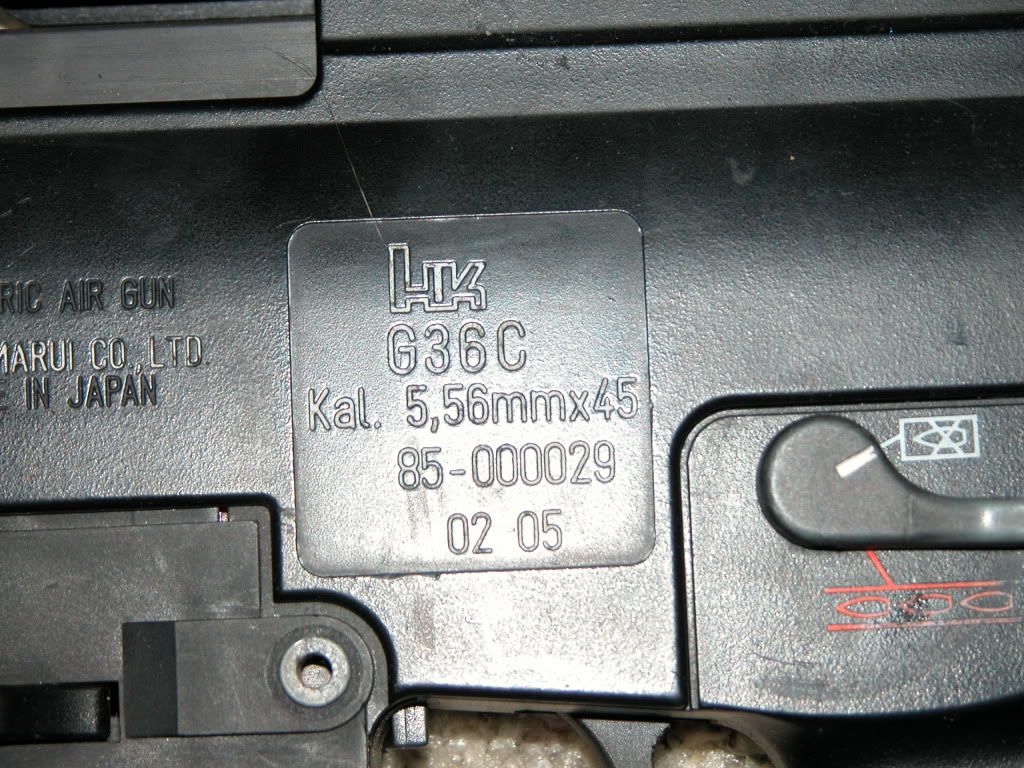 Systema Standard Torque Helical Gears
Hardly used.
Price $55
These are the gears, also includes a half tooth piston and piston head.
www.airsoftgi.com/product_info.php?products_id=6743
Madbull v2 Black Python 6.03mm Tightbore 509mm length (Brand new)
Price $30
www.airsoftgi.com/product_info.php?products_id=1231