Post by AndrewMp5k2007 on Oct 19, 2014 18:15:07 GMT -5
(Located in Sterling Heights, MI 48313)
Prefer Paypal.
No lowballs. No part outs (unless otherwisely stated).
No thread craps. No trades, only ones specified.
The more you buy, the more I'll discount (combine items to make a package to save more).
Gladly take personal pictures for you if requested on items.
My Feedback
Want To Trade For:
Items may not have to be brand new, but must work 100% and PREFER undamaged (paint wear/tear is fine, just no holes, dings, dents, ect)
* M82A1 AEG Barret (Echo1/Socom Gear)
*
KWC CO2 Desert Eagle
or
Tokyo Marui Desert Eagle (HardKick)
*
Polarstar V2 Gen3 Fusion Engine
(Don't need the hose/regulator/ect. , just the gearbox.)
* Multicam Molle Dump Pouch
* Maruzen (5pack blue) M1100/M870 Shell Cartridges
* Lonex M4 Flash Magazines
*
Element M952V Flashlight style end cap w/ pressure switch
(broken or non working pressure switches preferred)
GoPro Hero3 Black Edition
Everything that comes with it brand new (remote, mounts, cords, ect.)
2x Spare Wasabi 1200mAh Batteries w/ car charger
2x Spare Smatree 1290mAh Batteries
*MicroSD not included*
$300 shipped
Hurricane Colt Metal Body
Comes with everything (mag release, body pins not pictured, but included)
Doesn't come with hop-up or gearbox push pin
Modified to use a crane stock (originally couldn't route wiring inside the buffertube, was meant for a front wired gun)
$75 shipped
VFC (Stock) Gearbox/Motor
VFC Gearbox
* Stock, LBNIB
* Front wired w/ Small Tamiya connector (can change upon request)
VFC Motor
* Stock, LBNIB
(Neither used, both came out of my BNIB VFC Baby)
$90 shipped[?] 1x30mm Aimpoint
- Don't remember the brand (picked it up years ago, believe it's a G&P)
- Works fine, various red brightness settings
- Kill-flash installed (tad loose so I wrapped it once in electrical tape to stick better)
$50 shipped
(Can include
G&P 2x Magnifier
for an extra $20)
G&P M14 EBR
Stock, wired to Deans under handguard
Missing dust cover/charging handle
Was going to convert a P* into it, did it to my SR25 instead
G&P SkullFrog Noveske not included
$250 shippedG&P M4 WOC "SR15 URX" GBBR
- Stock G&P setup
- Spare G&P loading nozzle setup
- 1x G&P 50rnd Magazine included
- 100% working on Full-Semi
- Only 200rnds put through it
- Love the realistic recoil of it, but don't feel like dishing out the $$ on more magazines atm
(Aimpoint not included in price, can be had for another $40)
$220 shipped
Element FM23 Flashlight Filter
1x Black
1x DE
$15 shipped
each
Mosquito Molds Mini Launcher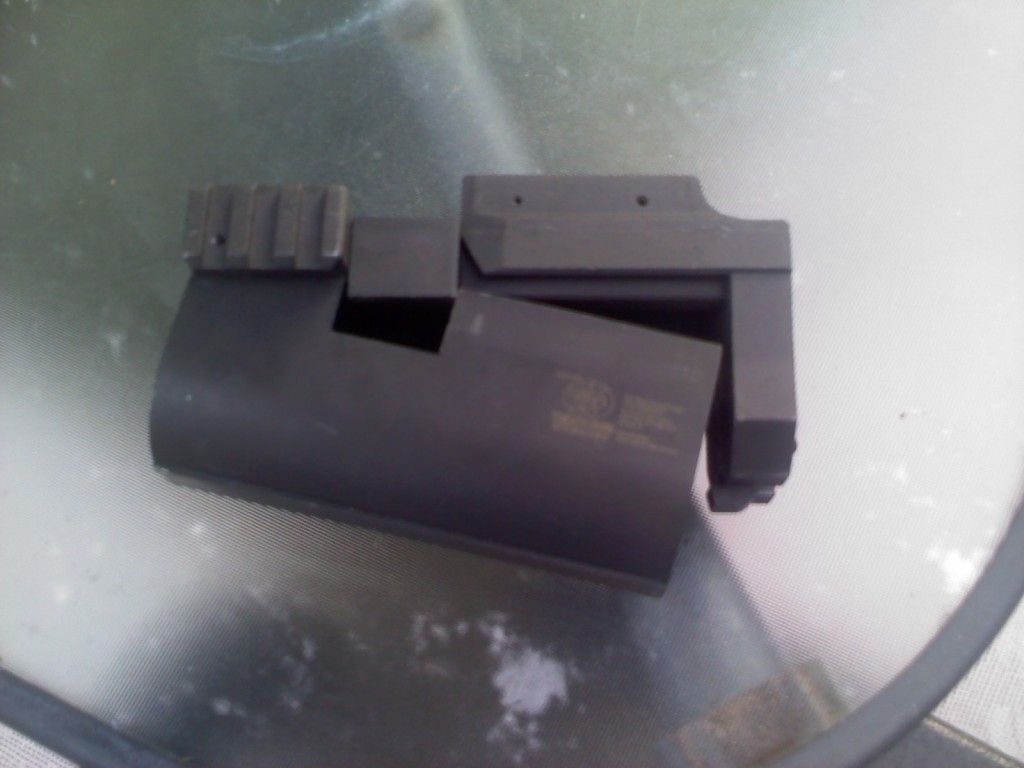 - Missing 1 of the mounting pieces that attach it to an RIS, was going to fabricate another up or something, everything else is fine, like new besides that. No shell included.
$50KSC/KWA M11 Magazine
- Brand new, never used.
- Filled to make sure it doesn't leak (it's new, why would it?)
$38 shippedITS Black Tactical Vest
- Spare, like new.
- No rips/tears/ect.
- Was going to give it to my GF to use, but since I upgraded to a plate carrier, my old vest will be going to her if she decides to play.
$30 shippedApple iPod Touch (8GB Gen1)
- First Generation iPod Touch
- 8GB of space
- Used it mainly to just listen to music / Authenticator for WoW
- Have all original box/paper work
- NO headphones, but I can include some new spare Walmart(?) ones if one wishes
- Screen is in great condition, back has normal wear/tear scratches being in ones pocket
$40 shipped